2
packets in the post today from my Spring Fling SP
Love2spoilU
- That was lucky for the
postman
, he avoided a major stalking, and he was early so I didn't have to pace whilst I waited for him.......well, there is obviously collusion going on somewhere because I received 2 near identical envelopes:
BUT, they came from 2 very different parts of the world....This one sent by
Lulu
in UAE,
which had this in it...look!
3 Ferrero Rocher (Monsieur, with these chocolates you really are spoiling us), and as my household know - "3 is a magic number, oh yes it is, it's a magic number!!!" A set of Anne Geddes baby photo stickers with a little rhyme on them, and a parcel labelled "Here's hoping all your wishes come true", and inside was a magic lantern. I loved the way this was packaged...so thoughtful. It has already had a bloody good polish, but nothing yet...it won't stop me, I know he is in there somewhere.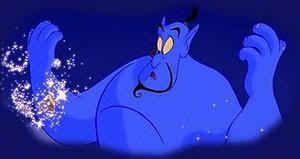 I also think it is an incense burner, well that is what I have used it for, as well as rubbing it for the genie. Now I am working on my 3 wishes. God, that is a few "3's" so far in this post, it really is a magic number.
Isn't it cute?
My other envelope came from here:
so it could have been sent by...hhmmm, I wonder, I'll have to have a think on that one. And it contained: a cat book mark, don't you think he looks a little like Archie only a little livelier; a note from my SP, and a fridge magnet with DDs favourite birds on it, with a lovely message....next picture sees it on the fridge....
along with all of my "stuff" on the fridge. God, it does need sorting...

Thanks SP, you really are spoiling me, 2 pressies in one day. I was only expecting 1 in the whole of the Fling. Now to figure out whether you are:
a) Lulu, in collusion with someone in the States,
b) Someone in the States in collusion with Lulu,
c) Someone somewhere else, in collusion with the usual suspects, or
d) I have lost the plot completely......hhhmmmmmm...I know what my therapist would say! Ha ha!
I never was any good at Guess Who.
Something else that my fab SP sent me was this
http://www.albinoblacksheep.com/flash/llama.php
I really don't know quite how to paste it as a clickable picture link, but click on it,and I hope it leads you to as much laughter as it lead me to.
This post was brought to you whilst listening to: